Exploring the City of Brotherly Love (Day 1) by Amy Pastrana.
Hey all! It's Amy, Verge of Verse's Social Media Editor, here!
Let's start off by saying I'm happy af to be kickstarting, 
Verge of Verse: On the Road
This awesome segment is dedicated to traveling spots around the city, the country, and the world. We want to be able to capture our adventures and share it with you, our readers, our creators.
For our first spot, we hit "the birthplace of America": Philadelphia, Pennsylvania.
So let's break it down shall we? We spent the next two days exploring Philly. This is Day 1:
---
If you follow us on Instagram @vergeofverse (if you haven't yet, you should, 'cause our IG game is BOSS) you were able to catch our story filled with all the dope, historical and artsy spots of Philly, likeee:
The Philadelphia Museum of Art. Since it was raining, we finished the entire museum in just three hours. From British tea cups to Parisian portraits, and neoclassical art. To Japanese and other Asian sculptures and stones, and Indian temples filled with statues of gods and goddesses you wish were real. I'm saying tho, if you like Monet, Van Gogh, the occasional Picasso and  modern art, you can so walk back into time with this museum, if you're into that sort of stuff.

Also, go to this museum if you wanna relive your very own 'eye of the tiger' hero moment as you climb the infamous Rocky Steps and channel your inner Balboa. Only if you want to 😉

Then, go get yourself a Philly cheesesteak, you deserve it after walking around for three hours or more AND climbing those steps. Go where Jimmy Fallon says are the best of Philly and that's Dalessandra's Steaks: Beer-Hoagies. This place was so packed, your order was called through a microphone. Open till midnight, this is the best place to go if you never had a Philly cheesesteak (like me) or if you need to satisfy that craving! Trust me, you WON'T be disappointed.
Word of advice: don't you dare wear your NY Giants gear unless you really don't want onions in your cheesesteak!
Even though it was a chilly day during spring break, my tummy and I were extremely happy. Stay tuned for Day 2!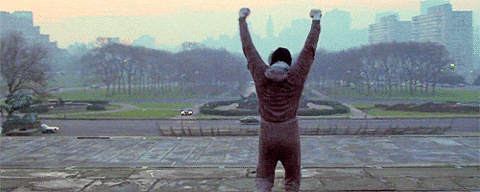 Con mucho alma, 
-Amy